Why it is important that your broker stays on the journey as your business evolves
One of the most compelling reasons for working with a trusted insurance broker is that you have someone to help you solve risk problems by understanding your business as it evolves through its different life stages:
Business Life Stages
Make an enquiry
Give us a call on 01342 580106*
* Charged at your usual local tariff rate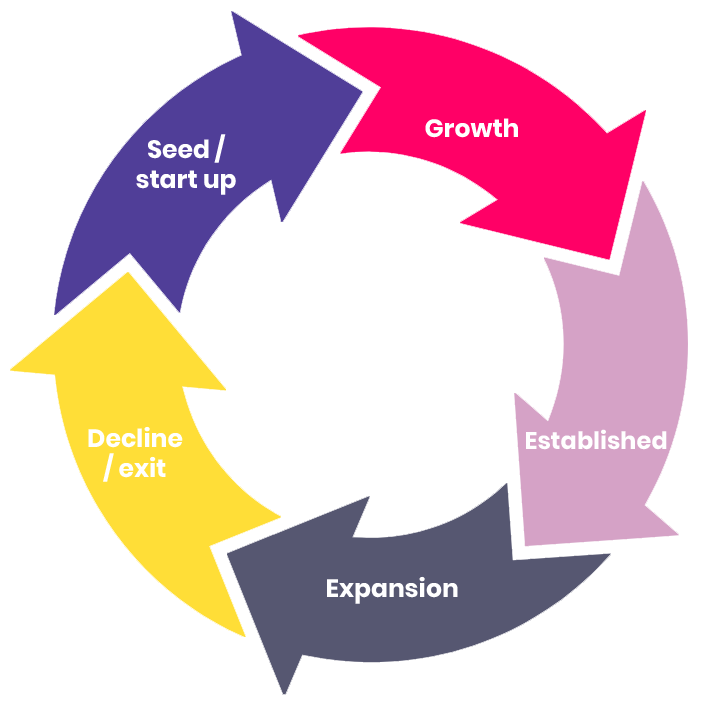 Each business life stage brings with it different opportunities, challenges and risks.  By using our expertise and that of our solution partners, we can support your plans throughout each stage of your business' development, such as when you are thinking of starting up, or expanding your workforce or premises, changing your leadership, introducing new products, and so on.  These types of changes impact the risks that you face and potentially can leave you under or uninsured.
Underinsurance is a relatively common issue for many small and medium businesses and often reflects our focus on the day to day business operation and not on the risk management that underpins and protects it.  Underinsurance can also be a creeping issue caused when businesses do not review the level of cover in place or did not set it at the correct level initially.  If your insurance is set at an inadequate level, the 'average clause', which is present in most insurance policies, is likely to apply.  The 'average clause' means that if the insured business asset, e.g., your stock, is found to be underinsured by 50%, your insurance claim will only be settled at the 50% level.  This would hit your business hard.  For more information see risk management solutions.
Humans are usually unrealistic optimists and this unrealistic optimism can lead to poor decision making, or underestimating the impact of emerging risks, such as cyber attacks, changing weather patterns and political/economic changes on their business assets and / or activities.  Working with a trusted broker, such as, RS Risk Solutions, can help you assess the levels of cover and risk management programme you need in order to mitigate or prevent losses occurring, or in case they do, ensure you are adequately covered.  Don't risk your business, yours customers, your employees and partners for what is short term cost saving – instead contact us, we can assist you work through your insurance and risk management options.